Christmas + Ugly Sweaters Cookie Box Bundle
$69.90
$89.90
($20 off)
+ Free Shipping
Christmas is here! Celebrate in the cutest possible way by including your dog in every moment. Bundle and save!
Handmade and hand-designed with love
Locally sourced, human-grade ingredients
Baked and packaged to stay fresh up to 15 months
Good dogs deserve the best gifts. Christmas Cookie Box is the cutest dog gift to put under the tree this holiday season, for your dog or a pup you love. Bundle with Ugly Sweaters Cookie Box to go along with the sweaters that you and your family and friends break out this holiday season.  
Baked fresh in our own North American bakery, our gourmet dog treats are made using only the best locally sourced, human-grade ingredients. Each treat comes individually wrapped, perfect for treating now, sharing, and saving to last the whole season.
⭐ Over 3500 Site-Wide 5-Star Reviews ⭐
Save even more on these Cookie Boxes! Subscribe to the Cookie Club now for exclusive discounts and other perks.
what's in the box
This bundle includes Christmas Cookie Box and Ugly Sweaters Cookie Box.
• Includes 18 themed cookies, 8 icing cups, and a packet of mini cookies between the 2 boxes
• Baked in Canada using human-grade ingredients locally sourced in Canada and USA
• Hand-designed by a talented team of dog lovers
• Individually wrapped to preserve freshness, with a 15-month shelf life from the date we baked them
• FREE shipping over $30
• 100% Happiness Guarantee
• Packed with care, to ensure treats arrive in perfect condition
• Bundle weight: 3.52lbs/1.6kg
INGREDIENTS
We use only the most high-quality and safe ingredients in our cookies.
Like you, we consider our dogs members of the family, and we believe they deserve the same level of quality we'd expect in treats for ourselves.
Our cookies are baked fresh in our own bakery in Canada, using locally sourced, human-grade ingredients that have been tested and approved as safe for dogs. This includes our dog-friendly frosting!
All Wüfers Cookie Boxes are produced and packaged in our bakery in accordance with recognized manufacturing practices and all federal, state, and local regulations.
Guaranteed Analysis:
• Crude Protein 5.00% min
• Crude Fat 15.0% min
• Crude Fiber 6.0% max
• Moisture 10.0% max
• Calorie content: 4,230 kcal/kg
Ingredients used in our cookies and frosting:
Whole Wheat Flour, Applesauce (Preserved with Ascorbic Acid), Spelt Flour, Vegetable Oil, Vital Wheat Gluten, Linseed Meal, Honey, Cinnamon, Psyllium Seed Husk, Coconut, Barley Flour, Sugar, Hydrogenated Palm Kernel Oil, Soy Lecithin, Vanilla, Dried Whey, Oat Flour, White Rice Flour, Tapioca Starch, Carob Powder, Dried Skimmed Milk, Apple Cider Vinegar, Baking Soda, Salt, Peanut Flour, Peanut Butter (Select Roasted Peanuts, Soybean Oil, Corn Maltodextrin, Hydrogenated Vegetable Oil (Cotton Seed and Rapeseed Oil), Salt, Mono- and Diglycerides, Palm Oil, Corn Starch, Carnauba Wax, Confectioner's Glaze, Gum Arabic, Rice Protein Concentrate, Maltodextrin, Added Color (FD&C Red #3, FD&C Red #40, FD&C Blue #1, FD&C Blue #2, FD&C Yellow #5, FD&C Yellow #6, Iron Oxide, Red Cabbage Juice, Annatto Extract, Beet Juice Concentrate, Riboflavin), Citric Acid, Ascorbic Acid, Calcium Carbonate, Sodium Carbonate, Potassium Hydroxide
SHIPPING & RETURNS
We can't wait for you to get your cookies!
Your order will be processed within 24 hours. Orders placed on holidays and weekends will be processed the next business day.
Once processed and shipped, orders placed with standard shipping will generally arrive within 3-5 business days. Remember that our cookies are specially baked and individually wrapped to stay fresh for up to 15 months, so that you can order early without any worries about quality!
You will receive a shipping notification via email when your order is shipped, which will include a link to track your order.
100% Happiness Guarantee
It's our goal to make pups and pup-parents happy! If you are not happy with your order, you can request a return within 60 days for a full refund of your purchase price, provided the item was not noted as final sale at the time of purchase. Bandanas and bow ties must be returned unworn, unwashed, and in the same condition in which it was received. Email us at info@wufers.com to inquire about a return.
Giving cookies as a gift?
Cookies make the best gift for dogs! Just use the recipient's address in the shipping area, and your information in the billing area. Sorry, we do not currently offer a gift note option.
FAQ
Q: Will my dog like the cookies?
A: With over 3500 5-star reviews, we can happily say your dog will most likely not just like, but LOVE our cookies. Each treat is baked fresh in our own bakery in Canada, using only the best wholesome, human-grade ingredients that are carefully selected to be safe and tasty for dogs!  
Don't take our word for it – see what dogs and their humans have to say about their Wüfers cookies!
Q: My dog is small. Will they be able to chew the larger cookies?
A: We love little pups! Although some of our cookies are as large as 6 inches, your small dog can absolutely still enjoy them! Many of our pup-parents with small but mighty dogs find breaking the cookies into smaller pieces is helpful. If you find it tricky to break a cookie, try using a knife for easy portioning.  
Q: Are Wüfers treats safe for my pup?
A: Absolutely. Just like you, our pets are our family, and the safety and quality of our dog cookie ingredients is incredibly important to us. We extend our own healthy lifestyle and beliefs to include our dogs and yours, and we believe that treating your dog shouldn't have to include a long list of unmentionable and unrecognizable ingredients – if we can't eat it, why should they? 
All of our ingredients are approved as safe for dogs, locally sourced, human-grade, and carefully selected to ensure your pup gets a cookie as wholesome as it is cute.
Q: If I open the Cookie Box, will the cookies go dry quickly?
A: Your pup will have lots of time to enjoy these tasty treats! Our cookies are specifically baked to remove extra moisture and extend the shelf life of each treat, without the need for extra preservatives. From there, each cookie is individually wrapped in recyclable plastic bags to preserve their freshness. So whether you are celebrating for a day or a month, your cookies will stay fresh and taste great – tested and approved to last for up to 15 months!
See all of our FAQs here.
Cookie Community
Key Ingredients
Customer Reviews
Write a Review
Ask a Question
12/02/2020
Anonymous

United States
Great product!
Ordering was easy and delivery was quick. The only complaint is that one of the cookies was broken in the one box. But everything else was perfect!
12/01/2020
Sonja

United States
She Loved Them!
Lexi LOVED her cookies! Her nose was in the package before I could get it open good. That are beautifully decorated and smell amazing. She even got enough to share...maybe. :-)
11/30/2020
Becky S.

United States
Best Day Ever!!
That's what my Grandpup Remi thinks when the Wufers box arrives. The cookies are absolutely adorable. So beautifully decorated. Wish I was that good at decoration my own cookies. We have been buying Wufers for a little over a year now, and are so happy with them. Also just got our Wufers Advent Calendar, which is so much fun. Thanks Gramma Becky and Remi too
12/16/2019
Callie

United States
Amazing
These cookies are amazing they were beautiful. They got to me within a week and not one was broken. I got them for all my kids' dogs and sneaked my dogs one before Christmas and they LOVED them no crumbs here. I told my mom about them and all the Christmas ones are sold out but she is on the wait list and we will both be definitely be buying for many more fun holidays to come or just because.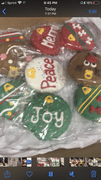 12/07/2019
Mary

United States
Ollie's favorite treat
Great cookie company! My furbabies love the cookies and they are gorgeous! Fast delivery too. I love being able to give my bff a treat that is wholesome and made in America! Thank you Wufers!
JOIN THE COOKIE COMMUNITY